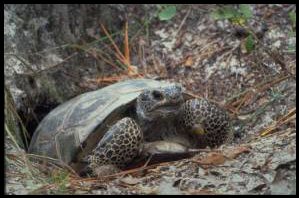 The Gopher Tortoise Organization, Inc. is a non-profit foundation created to contribute toward the conservation, protection and management of the Gopher Tortoise (gopherus polyphemus), commensals and their habitat.
Our work is currently focusing on Gopher Tortoise conservation and education throughout Florida.
Gopher Tortoise Services, Inc.
provides Consultants, Developers, Land Managers and Individuals of sites affected by the presence of the gopher tortoise with cost effective solutions, that minimize impacts on development projects while maximizing the conservation and long term survival needs of the gopher tortoise.